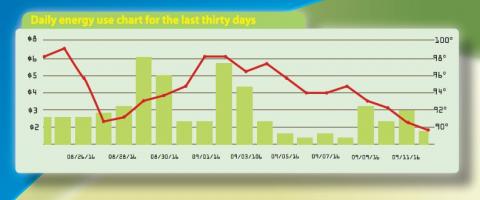 PowerView is an energy-awareness/monitoring service offered by MEC for our members who wish to remain on traditional monthly billing but who want to take a more active role in monitoring electric use.
Statistics show that those who monitor or track their energy use on a regular basis, use less energy. By knowing how much energy is used every day, members are empowered to adjust their lifestyle resulting in energy savings of 10-15%.
PowerView...As easy as 1-2-3
By logging in to MyUsage.com, you can monitor your daily electricity use and have high usage alerts sent to you via email. PowerView users can sign themselves up for the program and choose how and when to receive updates and alerts on their electric account in these 3 easy steps:
1. Have your Midstate Electric account number and meter number ready when you log in to MyUsage.com.
2. Click to setup an account and type in your email address and select a password.
3. Click on Usage Monitor account and log on to the website to check your daily electricity use.